LIQUID PENETRANT METHOD (PT)
Non-destructive testing using the liquid penetrant (PT) method
Check the suitability of your product or batch with liquid penetrants
In our laboratory we have 2 lines for performing PT checks, dedicated to specific industries that can meet specific customer needs. Accredia 17025 and Nadcap accredited lines and qualified 2nd and 3rd level personnel are further guarantee of the quality of service that TEC Eurolab offers in this specific context.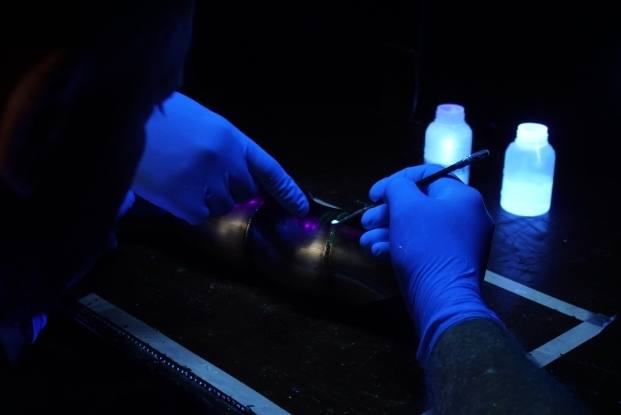 AT28 Line – General Industry
Accredited ACCREDIA 17025 according to UNI EN ISO 3452-1 specification, has 3 immersion tanks to perform the PT control with different techniques depending on the type of component being checked. In particular, controls are performed with Color Contrast Penetrating Liquids with non-aqueous wet detector (Type 2, S1-2, Method A, Form e) and Fluorescent Penetrating Liquids with dry powder detector or non-aqueous wet detector (Type 1, S2-3, Method A-C, Form a-d)
AT62 Line – Aeronautical/Aerospace Sector
NADCAP-accredited according to checklist AC7114/1 in accordance with the ASTM E1417 / E1417M the line is prepared for testing according to Type 1 technique (Fluorescent Penetrating Liquids), S3 (High Sensitivity), Method A (water removable), Form a (dry powder detector). The AT62 line is also prepared for a second type of technique, which is currently under accreditation: Type 1 (Fluorescent Penetrating Liquids), S3 (High Sensitivity), Method D (post emulsifiable with hydrophilic emulsifier), Form a (dry powder detector).In addition to performing on-site inspections, TEC Eurolab also performs PT inspections at customer's premises in accordance with UNI EN ISO 3452-1.
WHAT DOES LIQUID PENETRANT TESTING CONSIST OF?
Control with Penetrating Liquids (identified by the acronyms: PT, FPI, DPI) aims to Detect discontinuities emerging on the surface of a component by the application and subsequent removal of a colored liquid on the sample surface. The liquid will be removed from the surfaces during the removal phase, while it will remain in any discontinuities on the surface of the part, revealing itself in the final inspection phase. The different sensitivities of the available penetrating liquids make this control extremely versatile and suitable for the inspection of a part during different stages of the production process, starting from the raw product to the machined component.
WHERE DO YOU APPLY PENETRATING LIQUIDS?
The relative simplicity of operation and application of the PT method makes this control executable on many types of artifacts. Almost all manufacturing methodologies (Casting, Additive Manufacturing, Mechanical Machining) and many alloys are found to be inspectable with PT control. The main constraint lies in the need for a non-porous surface that does not absorb liquid, effectively making actual discontinuities on the component undetectable. PT control is applied in Aerospace, Oil&Gas, Automotive and Manufacturing sectors, with different techniques depending on the part size, production status and type of discontinuity sought.
Do you need non-destructive control?
TEC Eurolab can carry out
the tests you need.

FAQ – PENETRATING LIQUIDS
To what extent should the penetrant liquid be removed without interfering with the test results?
The penetrant liquid should be removed in the portion/part that is in excess on the surface, without exceeding the washing pressures to avoid removing also the PT penetrated in the defects.
Does the application of penetrant liquids and their respective detectors require special precautions to avoid corrosion of the parts under investigation?
Yes, especially on alloys susceptible to attack by halogenated agents (chlorides, sulfides..); indeed, there are classes of consumables in which these elements are kept below very small thresholds.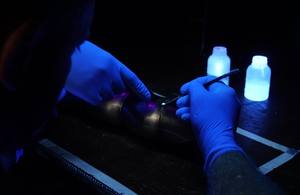 TEC Eurolab has 2 lines for performing PT checks.
TEC Eurolab Academy 2023 Scheduled Courses

Are you planning your company's technical training for the new year?
TEC Eurolab Academy is pleased to share the 2023 CALENDAR, with the rich proposal of technical training offered by TEC Eurolab.
We are at your service.
We have the testing solutions you need.
We are at your service. Contact us.