TEC Eurolab is a competent, independent and impartial third-party industrial laboratory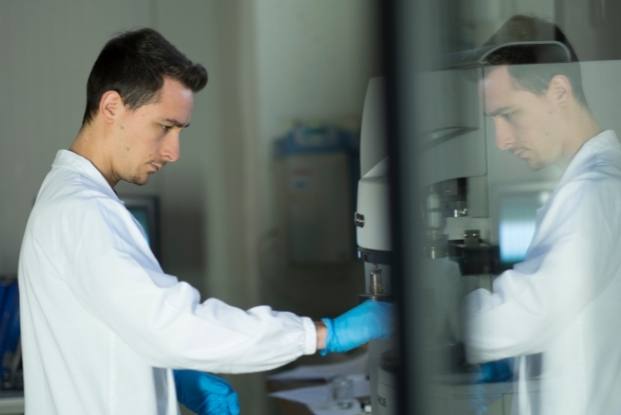 We assist manufacturing companies, from automotive to aerospace, from energy to biomedical, from food to cultural heritage, in gaining and verifying the maximum performance of products and processes, with safety and quality. Our numerous accreditations, including 17025, 9100, and Nadcap, are a further guarantee of this.
The center consists of a:
Metallurgy department

Chemical department

Mechanical testing laboratory

In-house workshop, capable of supporting the various departments in the production of test pieces and equipment necessary for carrying out the tests.
Metallurgy, the science of metal alloys and their processing, is the cornerstone of the laboratory. For instance, microstructure examination, using optical and scanning electron microscopy, allows us to investigate specific features related to the technological or thermal processes of a product, verify its compliance with requirements, and, in the case of anomalies or failures, determine the failure mode. The behavior of materials in corrosive environments is verified using accelerated corrosion tests.
The chemical composition of metallic, polymeric, and composite materials is investigated using a wide range of techniques. Depending on the field of application and based on analytical results, our specialists assess the suitability of materials for use in aggressive environments such as aircraft engines and power plants, but not only. Additional purposes include FCMS, safety for food contact, the inspection of powders for additive manufacturing, compliance with the RoHS directive and the REACH regulation for environmental protection, and the presence of foreign contaminant particles in new or used industrial components.
For each material, our technicians test the mechanical properties to verify the conformity to design specifications, ability to withstand operating load conditions, or to validate a model. Tests can be carried out both at low and high temperatures thanks to nitrogen cooling and dedicated furnaces. In addition to the standard static properties of yield, ultimate tensile, and impact strength, we can verify creep and fatigue behavior by cyclic testing, adhesive bonding strength, crack growth rate, and fracture toughness by fracture mechanics studies. Our in-house workshop, certified for aeronautical mechanical machining and residual stress analysis, allows us to manage and guarantee the entire testing process, starting with the preparation of the test specimens.
We are at your side.
We have the
 

testing solutions

 

you need.
We are at your service. Contact us.