ENVIRONMENTAL AND FUNCTIONAL TESTS
We perform environmental and functional tests with dedicated instrumentation
CHECK YOUR COMPONENT'S FUNCTIONALITY AND RESISTANCE IN NON-STANDARD ENVIRONMENTAL CONDITIONS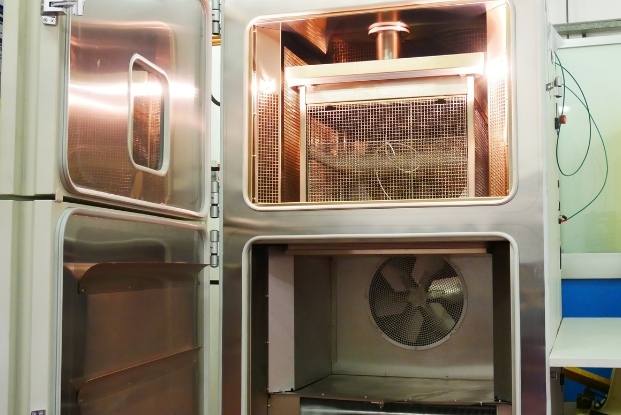 ENVIRONMENTAL TESTS CARRIED OUT AT THE TEST ENGINEERING DEPARTMENT
Thermal shock

Climatic chambers

Accelerated ageing tests (UV test)

Salt spray tests

Corrosion simulation tests

Stress corrosion cracking tests
To verify the characteristics of a component, in addition to testing the materials used and the compliance of the object with the design, it may be necessary to assess its operational functionality when it operates in non-standard environmental conditions.
EXAMPLES OF FUNCTIONAL ENVIRONMENTAL TESTING
Environmental and functional testing can assess whether the component is able to withstand repeated thermo-mechanical stresses at high temperature and humidity, and can detect whether rapid changes in temperature conditions may lead to operational problems.
By combining different testing devices, a team of specialized technicians can build test set-ups that can reproduce and possibly aggravate the real environmental service conditions of the component, allowing accelerated assessments of performance degradation when subjected to cyclical thermal stress.
CLIMATIC CHAMBERS AND RAPID HEATING/COOLING SYSTEMS
TEC Eurolab has the possibility to interface climatic chambers of various sizes and rapid heating and cooling systems. This makes it possible to simulate operation in conditions far below 0°C (down to -80°C) or at high temperatures (up to 220°C) and to create airflow conditioning up to 500°C.
In addition to temperature variations, it is possible to expose the component to atmospheres that accelerate possible corrosion phenomena, to assess the degradation of coatings, seals, and threaded connections, or to assess the effect of solar radiation on polymeric materials, rubbers, and paints.
We are at your side.
We have the
 

testing solutions

 

you need.
We are at your service. Contact us.