OILS AND LUBRICANTS ANALYSIS
The tests we perform to analyze oils and lubricants at TEC Eurolab
We perform all chemical and physical analyses to obtain indication of the nature of the fluid, its density and flash point, as well as assessing the resistance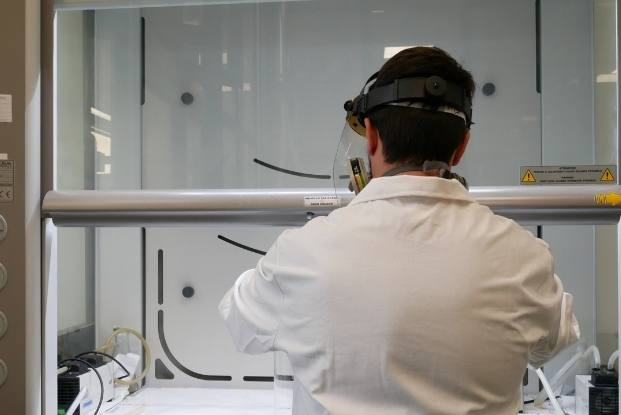 Lubricating oils (mineral or synthetic) are liquid mixtures used for lubrication, protection, friction reduction and cooling of metal surfaces belonging to mechanical organs in operation with each other.
It is important to analyze the chemical and physical properties of used lubricating oils to obtain information that determines the choice of the best ones, based on the type of use for which they are intended.
At our laboratories we perform chemical analysis to obtain an indication of the nature of the lubricating oil/fluid, physical property analysis to assess creep resistance under the influence of gravity, fluid density or flash point.
CHEMICAL ANALYSIS OF OILS AND LUBRICANTS
Wear elements in oil: icp plasma chemical analysis – ASTM Method D5185
Tan (total acid number) – ASTM Method D664
Tbn (total base number) – ASTM Method D2896
Pour Point – ASTM Method D97
Fluid Contamination – ISO Method 4406
Contamination: washing, filtration, grav. part. max
Density with aerometers – ASTM Method D1298
Index viscosity (v40-v100-calculation)
Kinematic viscosity at 100°C – ASTM Method D445
Kinematic viscosity at 40°C – ASTM Method D445
Oxidation-nitration-sulfuration analysis – ASTM Method E2412 (ftir)
Karl Fischerr Water Content – ASTM Method D6304
Chemical analysis with particle counting SEM-smart pi
Do you need another test?
TEC Eurolab can carry out
the tests you need.

TEC Eurolab Academy 2023 Scheduled Courses

Are you planning your company's technical training for the new year?
TEC Eurolab Academy is pleased to share the 2023 CALENDAR, with the rich proposal of technical training offered by TEC Eurolab.
We are at your service.
We have the testing solutions you need.
We are at your service. Contact us.