DIMENSIONAL QUALITY CONTROL
TEC Eurolab performs quality control on single, pre-series or small/medium production components
FIND EXTERNAL SUPPORT FOR YOUR QUALITY CONTROL OFFICE
Dimensional inspections are closely related to quality control of manufacturing companies. They allow testing of samples at the prototype stage or samples at the production stage, up to the finished product. Dimensional inspections are intended to verify that the final output matches what is indicated in the technical drawing in terms of shape, size, and geometry.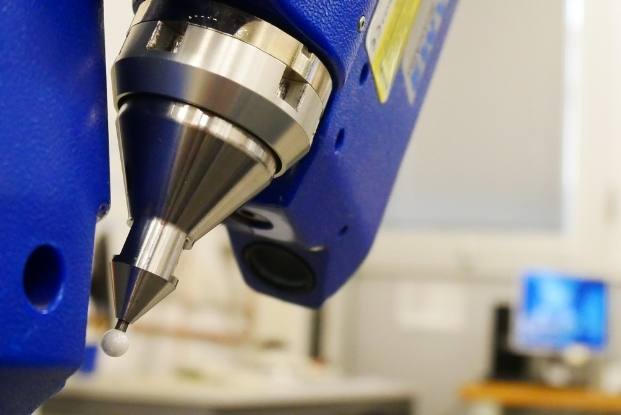 THE IMPORTANCE OF MATCHING THE DESIGN WITH DIMENSIONAL CHARACTERISTICS
In any industrial setting, it is essential to ensure that the dimensional characteristics of a manufactured component meet the specifications defined in the design phase.
Industrial sectors such as Automotive, Biomedical, Oil & Gas, Ceramic, Aerospace, and Carpentry need to meet specific metrology reference standards.
A DEDICATED METROLOGY DEPARTMENT AT THE DISPOSAL OF QUALITY OFFICES
The customer can rely on the experience and instrumentation of TEC Eurolab's dimensional department in handling critical production issues and emergencies, or to draw up control instructions and statistical validations of production process, at every stage of production, from prototyping to output quality control.
TEC Eurolab has all the necessary technologies for complete dimensional inspection of any product or material: metallic, plastic, rubber, composite, rigid or flexible.
TEC Eurolab designs the best measurement strategies in order to minimize the error contribution introduced with the measurement process and thus provide extremely reliable data to support the customer, in measurement campaigns for validation of new components and control in production series.
THE SERVICES OF THE METROLOGY DEPARTMENT
Parallel to quality control, TEC Eurolab's dimensional inspection department offers:
reverse engineering service, using laser technology acquisition tools, blue light fringe technology or by directly acquiring the tomographic volume with one of 3 available industrial tomographs.
Process capability statistical analysis services with Cp and Cpk index calculation
Statistical analysis services of measurement systems by means of Gage R&R
WHAT PRODUCT SECTORS DO WE TARGET?
Automotive
Biomedical
Aerospace
Racing
Industrial
Mechanical processing
Additive manufacturing
Oil & Gas
Electrical Devices
Ceramics
Hydraulics
Fasteners
Do you need to check your production batches?
TEC Eurolab can carry out
the tests you need.

Creating measurement programs for CMMs, even remotely
Design and implementation of workpiece clamping systems on a CMM
SPC, Process Capability and Cp Calculation, Cpk
MSA, R&R and creation of control procedures
Testing according to UNI EN ISO 1090 standard to obtain certification
Do you need another test?
TEC Eurolab can carry out
the tests you need.

WHAT IS YOUR INDUSTRY?
TEC Eurolab performs dimensional quality control service according to specific industry standards.
Find out what dimensional inspections we perform for your industry
AUTOMOTIVE
Automotive customers, who must ensure quality control of their production batches every day, must meet specific regulations.
BIOMEDICAL
In an industrial setting such as the Biomedical one, it is more crucial than ever to ensure the quality of the components and materials that will be marketed.
OTHER SECTORS
For all industrial realities that need to meet specific reference standards in metrology, TEC Eurolab offers a vertical testing service for each sector.
Does your product fall outside these areas?
We can customize the tests for you
Download our technical
brochure
All the technical details for the quality of your products
TEC Eurolab has various instrumentation for dimensional quality control.
FAQ – DIMENSIONAL QUALITY CONTROL
Can the dimensional parameters of the threads be checked entirely?
Yes, dimensional measurements of all dimensions of screws and leadscrews are carried out on any type and any size of threads on the market, using special measuring machines and dedicated programs in accordance with the relevant standards.
Can the tooth profile of a gear wheel be scanned?
Yes, this is a common type of check in dimensional inspection and is performed through Cmm Zeiss, with special measurement and data processing software for sprockets and spline profiles.
Can internal dimensional inspections be performed on unselectable samples?
It depends on the type of sample dimensions: in many cases it is possible by injecting a two-component substance that retains high flexibility when drying, so it is possible to extract the sample cast without damaging it and subsequently perform measurements with optical machines, obtaining high precision and accuracy.
Can pressure tests and dimensional surveys be performed on tanks to assess their tightness and possible deformation?
Yes, pressure tests can be performed for pressures up to 3 or 5 bar, and at room and high temperature (130-150 degrees) for a few minutes or hours. Tank tightness can be monitored, and dimensional measurements can also be made, before and after pressure tests, with the accuracy required by the customer.
TEC Eurolab Academy 2023 Scheduled Courses

Are you planning your company's technical training for the new year?
TEC Eurolab Academy is pleased to share the 2023 CALENDAR, with the rich proposal of technical training offered by TEC Eurolab.
We are at your service.
We have the testing solutions you need.
We are at your service. Contact us.